My record collection is waiting for your admiration. Admittedly, there's a part in every music collector's ego that secretly wants a fellow fanatic to come over and admire the fruits of their labor. That labor, incidentally, is nothing more than shelling out moneys for an overpriced piece of plastic that somehow represents a memory trigger of an incident, feeling, event, or individual that has now been reduced to a fading image. That aural reminder vaguely colors in that image, and for a select few of us, we're willing to invest a large portion of money for this. And we're willing to look silly in the minds of others who just don't get it.
There are definitely others that we've observed over the years that have done the same. We remember these individuals too, and sometimes, we get a little envious over the quantity and quality of their collections.
The first one that comes to my mind was a friend of my parent's named Eric. His wife worked with my Mother and the two became close friends, which in turn, meant that my Father had to socialize with the couple too. Not that he minded; Eric and my Father would become drinking buddies and I can remember being dragged along to become the proverbial third wheel in their social activities. These activities usually involved card games, board games, softball leagues, and Sunday barbeques.
Typically, we would go over to their house and some times they would visit our house. I had my own creative ways of entertaining myself when they came over, but I really enjoyed those times that I was brought over to their house. Eric had the largest record collection I had ever seen at that point. It spanned the bottom half of a wall and it contained pretty much every popular album from 1965-1978. He was a huge
Beatles
freak, which was a plus, and I specifically remember him showing me a "White Album" re-issue that he purchased with limited edition white vinyl. "It will be worth a lot more someday than what I paid for it." He explained. Never mind the fact that he already had an original pressing that is probably worth more, but I didn't know that at the time. I was just impressed with his enthusiasm.
Eric worked for the coast guard, and I remember him getting drawn to
Gordon Lightfoot
's "Summertime Dream" album because it contained the hit "Wreck of the Edmund Fitzgerald."
He also was the first person to expose me to
Frank Zappa
. Eric bought "Sheik Yerbouti" when it first came out and I overheard him talking about how raunchy the latest Zappa album was. While the couples played cards in the kitchen, I was given full access to Eric's collection and stereo, provided I listened to everything on headphones. I immediately located "Sheik Yerbouti" and put on side one of the offensive effort. After side one alone, I learned that sex was stinky, that tampons can ruin plumbing, that "poop chute" was another name for an asshole which was another name for your butthole, and that ugly people should die. It was quite a mind-blowing experience for someone who was only 12. When I went to put on side two, Eric walked past the stereo on route to the bathroom. He saw me playing that Frank Zappa album and said "Man, you really shouldn't be listening to that." He didn't stop me though, and he did the responsible thing of telling my parents that I was in the other room listening to the Zappa album he was talking about earlier. Neither parent got up to request that I listen to something else, so I learned about a homosexual sex spastic named Bobby Brown.
Eric chastised me for listening to
Cheap Trick
's "At Budokan" too much. He also didn't think it was cool that
April Wine
used the same guitar line as "Day Tripper" at the close of their "I Like To Rock" track.
He did teach me some critic things in my music obsession.
Number one: When making a mix tape, try to put like era/like artist cuts together. It was a strategy that I used until 1989.
Don't use that shitass Memorex normal-bias shit. Throw down the extra cash and get that Maxell XL-II shit. High bias. Chrome. Aw yeah!
Wipe that shit down before you play it. Grab that Discwasher fluid, trickle it on that big ol' brush and get that lint off the vinyl, bitch.
So then I started collecting stuff, alphabetizing it, and spending money on plastic record sleeves. Once, I was talking to a friend who really didn't have much of a collection himself and he mentioned that he knew this guy that used to be an Assistant Manager of the local Disc Jockey record store, or some shit. We made our way over to this dude's house one night and we rolled a j with him. His entire wall was vinyl, and I remember specially ordering Syd Barrett's "The Madcap Laughs" from him at the store. He said I was the third person in the past week that had been asking about Barrett, which made me happy, because I remember talking about the original lead singer of Pink Floyd with them at school that week. It was nice to know I had aligned myself with fellow music explorers.
I immediately asked him if he remembered the Barrett incident and he did. He showed me some bootleg Barrett vinyl that he had and I asked if I could borrow it. "I don't lend out albums." He explained. That's the best lesson a fellow fanatic has ever told me: if you really love this shit, then you won't treat it fleetingly. From then on, I never loaned out any of my records to anyone.
He did let me return some other time and record the album on his own stereo. That was pretty cool, as was his acoustic rendition of Floyd's "Wish You Were Here."
He was the man in Keokuk, Iowa, but he was nothing like the freak in Waterloo I met years later. Tom, a man who had a record store once, got cancer, quit the business and became this hermit-type of guy who lived with his Mother. Almost the entire basement of his house was filled with alphabetized cassettes, reel tapes, vinyl l.p.'s, singles, every fucking format known to man.
He had everything no matter how obscure. He was proud of his collection and he would litter each conversation about the magnitude of his old store and how majestic his new store would be, if he could just get it off the ground.
Tom provided me copies of rare albums that he insisted that he use his own equipment for. It would take him a week to fire up all the components on it and he had some theory about taking noise reduction techniques out of records during the transfer of audio to a cassette tape. It was crazy, and most of the copies he made for me ended up sounding dull and flat with no high end and a very barky low end. Tom had the original copy of Television's "Little Johnny Jewel" single and an original copy of The Replacements "The Shit Hits The Fans" live album released on cassette only.
Tom later moved out of his Mother's house and got an apartment in the downtown area. Right below his apartment was his new record store, filled with inventory of albums that he didn't want anymore. It was pretty underwhelming, as Tom really didn't want to part with many of his albums. The store closed about a year later.
Finally, I vaguely remember the record collection of a female roommate who lived with some friends of mine. She seemed fairly reserved. An East-coast bohemian type who eventually fucked one of my friends (also a roomie) and who's name I cannot recall. Strangely, I do remember her record collection. She left one holiday to return home out of state and I snuck a look at her goods. Amazingly, it was primarily reggae music, deep catalog stuff, with a few new wave albums leftover from high school thrown in to add a sense of history. Peter Tosh, Bunny Wailer, she even had a huge stash of Black Uhuru albums. What devotion! I found it admirable that she had found a specific genre and completely embraced it to the fullest. Her stringent collection impressed me more than her Christian name, and the drama of fucking a roommate led her to eventually split very abruptly from the house and take Natty Dread with her.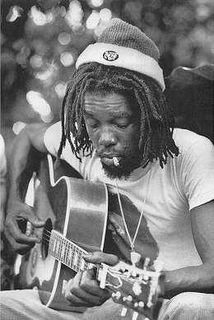 Her collection told me not to go beyond my own musical capacity: Her comfort zone was reggae. To this day I have not delved headlong into jazz because, honestly, I have a lot of uncomfortable feelings about improvisational musicianship that goes beyond my own musical understanding. I understand "Jailhouse Rock." I understand also that "A Love Supreme" is more spiritual than I can comprehend.
There are some other collections that have stayed with me over the years too. It's reassuring to know that there are others with the same ailment as me, and it's interesting to see where and in what areas their collections have grown. Some are completists. Some have narrowed their vision to a particular time or genre. But everyone of them can tell you a story if you're fortunate enough to admire them.